Eilish McColgan: Olympian's medals stolen in Manchester burglary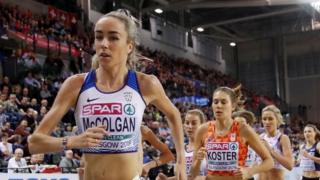 Burglars stole medals and jewellery when they "ransacked" the home of an Olympic athlete while she was abroad.
British middle distance runner Eilish McColgan said she was "upset and angry" after her Manchester home was targeted on Wednesday.
She asked Greater Manchester Police (GMP) for help on social media, saying no officers had been sent for six hours after the break-in was reported.
GMP said fewer officers on the beat meant certain crimes took priority.
McColgan, from Dundee, posted on social media on Wednesday that a member of her family found her home in Didsbury "trashed" when they went to check on her dog at 16:00 BST while she was in Stockholm, Sweden.
In a second post, she said British Championship medals had been taken alongside a necklace featuring the symbol of the Olympic Games.
McColgan, who represented Great Britain at the London 2012 and Rio 2016 Games, went on to challenge police, asking why no officers had been sent to her home six hours after the break-in was reported, adding: "Please can you help?"
GMP said inquiries into the crime were ongoing.
A spokesman said the force's response was based on the threat and risk posed to the public and it had to make "difficult decisions" when prioritising calls.
McColgan's mother Liz won the 10,000m at the 1991 World Championships in Tokyo and claimed a silver medal at the 1988 Olympics in Seoul.
McColgan Sr also posted on social media following the break-in, saying thieves had "ransacked" her daughter's home, and urging people in Manchester to look out for any of the items being sold on.
You may also be interested in: