Manchester attack: Payout 'insult' for Saffie Roussos parents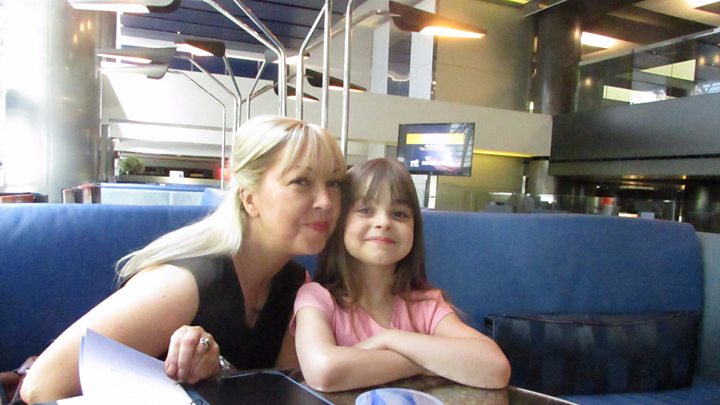 The parents of the youngest person to die in the Manchester Arena bombing said the government's £11,000 compensation offer was a "complete insult".
Saffie Roussos, eight, was among 22 people killed at a May 2017 concert.
Lisa and Andrew Roussos are launching a charity to help support families affected by terror attacks.
A Ministry of Justice spokesman said: "No amount of money can compensate for the loss of a loved one."
Saffie, from Leyland, Lancashire, was at the concert with her mother, Lisa, and sister, Ashlee Bromwich, when Salman Abedi detonated a device on 22 May.
Mrs Roussos recalled holding her daughter's hand outside the Ariana Grande concert before hitting the floor "with a thud".
She spent six weeks in a coma and only learned of Saffie's death from her husband when she regained consciousness.
"I remember thinking 'why has he not mentioned Saffie?'," said Mrs Roussos, in her first broadcast interview.
"I just knew. "I said 'she's gone isn't she?'."
Mrs Roussos learned to walk again but suffers from nerve damage and numbness in her hand.
She said she expected to feel "emotional" when she takes part in the Great Manchester Run on Sunday to launch charity MCR 22 alongside medics who helped her recovery.
Despite feeling "let down" by the government's offer of £5,500 each to her and her husband, Mrs Roussos said the launch of the charity would mean that "something good has come out of something so awful".
Saffie's parents said time had made no difference to their grief, with Mr Roussos adding they felt "like we're stuck in 2017".
He said: "The charity needs to be there to help victims of terrorism. There's no help."
The Ministry of Justice said more than £1m had been paid to hundreds of victims plus a further £211,300 in interim payments.
A review of the Criminal Injuries Compensation Scheme is due to report this year.
---
Memorial designs sought
Ideas are being sought for a permanent memorial to honour the victims of the Manchester Arena bombing.
A memorial is earmarked for a public space near Manchester Cathedral, close to the scene of the attack.
Applications have opened for designers to submit ideas for the "focal point" of the space.
---