Greater Manchester Spatial Framework: Bury protest march draws 700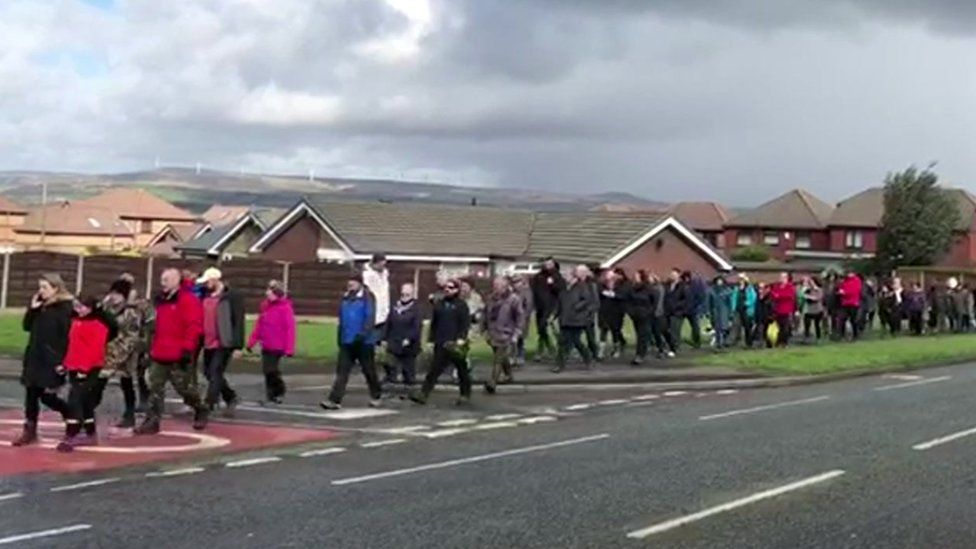 Hundreds of people joined a demonstration against plans to build on green sites in Greater Manchester.
Sunday's Bury march, in which about 700 took part, was the latest in a series of protests against plans for 201,000 new homes in the region by 2038.
Green belt land, which forms 47% of the city region, would be cut to 45% if the Spatial Framework plans are approved.
What are green belt and brownfield sites?
Green belts were introduced after World War Two to stop cities from sprawling and countryside being spoilt
There are tight controls on building in these areas
In 2018, about 12.5% - 1,629,510 hectares - of England's land area was designated as green belt
Brownfield sites are usually on disused land, but they are often more expensive to build on as they first need to be cleared
An earlier plan, published in 2016 for 225,000 new properties, drew huge protests across the region and 27,000 responses in a consultation.
Concerns were raised over congestion, affordability of homes, and the development of green sites instead of brownfield land.
Spatial Framework: 2019 version
The GMCA says the new plan "is based on an anticipated population growth in Greater Manchester over the period of the plan of 250,000 people".
Mayor Andy Burnham has previously said they would include 50,000 "affordable homes", of which 30,000 would be social housing
Latest proposals include more accommodation in town centres and the release of brownfield sites for development.
Related Internet Links
The BBC is not responsible for the content of external sites.