Racist graffiti at Salford flats: Vaughan Dowd pleads guilty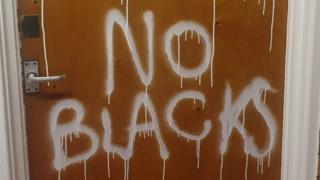 A man has admitted daubing racist graffiti on doors at a block of flats.
Vaughan Dowd left David Yamba, 10, "terrified" by writing "No Blacks" on the door of his family home in Salford, five days after they had moved in.
At Manchester Magistrates' Court, Dowd, of Irlam Square, Salford, admitted racially aggravated criminal damage.
The 54-year-old has been kept in custody "for his own protection" until he is sentenced at Manchester Crown Court on 21 March.
The court heard trainee solicitor Jackson Yamba, 38, and his son saw the graffiti written in white paint on his front door and two further doors on the morning of 8 February.
Ann Deakin, prosecuting, said the boy told his father: "Daddy, something is written on the door."
CCTV footage showed Dowd covering his face to carry out the attack before returning to the flats with his face uncovered.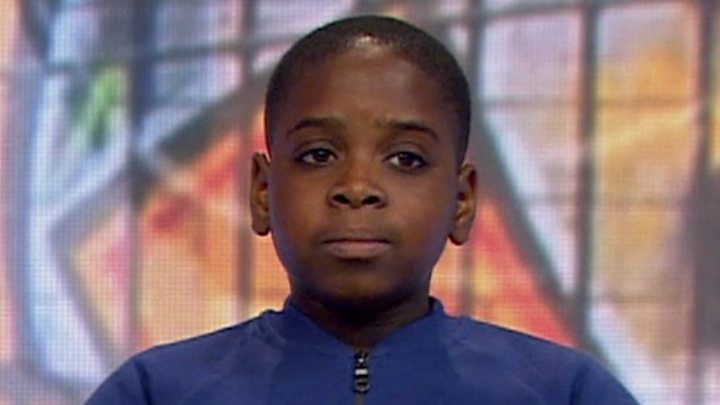 In a victim impact statement, the householder said: "The idea someone has the audacity to attack my front door of my home address and target me in this way has affected me in a lasting way.
"I'm now constantly on edge and worried about every little noise outside and it has affected my ability to sleep."
Lorna Wincote, defending, said: "The facts are fully accepted. There's no issues with regard to any drugs or alcohol, there's some suggestion of some underlying mental health issue, because there is no other underlying explanation."
The case came to light after Mr Yamba, who came to the UK from the Democratic Republic of Congo in 2006, tweeted a photo of his front door and complained that no police officers had been to see him a week after he reported the attack.
GMP's chief constable apologised on Twitter for the delay in sending officers to investigate.