Cats need change in road accident law, campaigner urges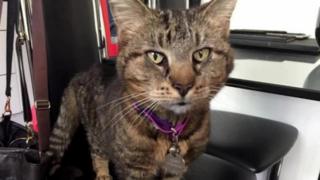 A cat lover is calling for a change in the law so that owners can find out when their pets are killed or injured in road accidents like dog owners do.
Helena Abrahams, from Bury, said currently cats could be thrown into landfill without the owner's knowledge.
Her online petition, calling for cats to achieve equality with dogs, has collected more than 50,000 signatures.
The Government says it is good practice for dogs and cats to be scanned for microchips following an accident.
Dogs must be micro chipped and drivers are legally obliged to report any accident involving a dog.
However, Ms Abraham's petition urges a new law to insist that cats injured or killed in a crash should be checked for a microchip.
Her campaign Gizmo's Legacy is named after her own pet who was killed by a car and cremated without her knowledge. "She was thrown away like a piece of rubbish," said Ms Abrahams.
'Left on landfill'
She added: "If she had her chip scanned I would have had my baby back and I could have cremated her like all of my other cats."
Ms Abrahams continued: "People have witnessed cats being thrown into the back of refuse trucks. I don't want a pet being left on landfill sites.
"I am absolutely furious because to scan a cat takes seconds and these scanners are very cheap," she said.
Emmerdale actress Samantha Giles is backing the campaign and said: "It is very, very important that the owners find out when their cat goes missing."
The Government said: "It is already good practice for local authorities and Highways England to scan any cat or dog found on our streets so that the owner can be informed."