Snow closes schools in Greater Manchester plus city airports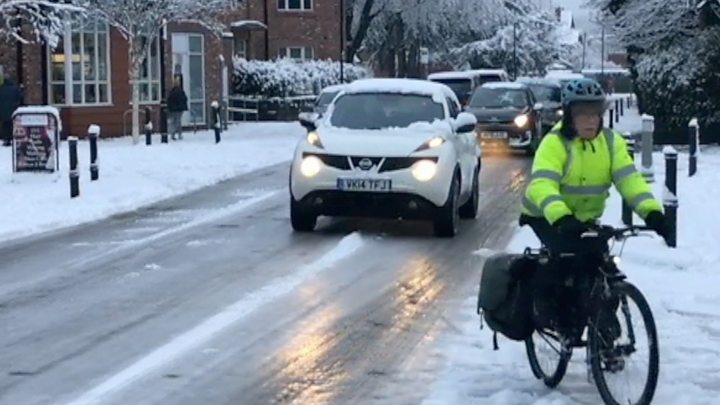 More than 200 schools are shut across Greater Manchester due to heavy snow that has caused widespread disruption for commuters and flights.
Boroughs including Trafford, Salford, Oldham, Manchester and Stockport have confirmed 214 schools closures.
Manchester Airport and Liverpool Airport closed their runways, but both had reopened by 10:45 GMT.
A bus driver told the BBC the icy conditions had led to "chaos" on the roads earlier.
Greater Manchester Police said there had been multiple reports of crashes on the motorway network. Highways England confirmed the region's motorways had been gritted.
The bus driver in Wythenshawe said: "Standing water is starting to freeze as well. Cars are slipping. Even though it's been gritted, it's chaos.
"It's just scary. It's all nose to tail. In this weather if people bang their brakes on in front of you, you're not stopping."
Manchester Airport's runways were closed at 07:30. One runway reopened at 10:45, allowing both departures and arrivals to restart.
The runway at Liverpool Airport was closed between 07:00 and 09:50.
A Twitter user posted a video of a worker at Manchester Airport kicking a snowball next to a Ryanair plane during the efforts to clear the runways along with the message: "Everyone is working really hard to clear the runway. Except this person."
An airport spokesman said staff and partner companies were focused on minimising disruption and the "isolated incident" would be dealt with by "appropriate action".
Passenger Elizabeth Bhandari said she had received little information about her flight from Manchester to Scotland before it was eventually cancelled following a four-hour wait.
Twitter users reported nightmare commutes into work due to the conditions on the roads.
Michael Hutton said he had been stuck on a motorway for three hours.
Another road user said it had taken her more than an hour to travel three miles.
Traffic cameras showed slow-moving traffic on the region's motorway network as snow blanketed sections of the carriageway, causing treacherous driving conditions.
One motorist complained to BBC Radio Manchester about the roads, saying it was "a total whiteout" on the M60.
In Stockport, 70 schools alone were closed, with more in Bury and Bolton.
Radio Lancashire reported at least 30 schools were closed across East Lancashire.
Passengers on the Metrolink tram service were hit by delays on the Manchester to Altrincham line caused by frozen points, while buses ground to a halt in Wigan.
Commuters across other parts of the UK also faced travel delays because of snow and ice.
Craig Dale is in charge of the gritting team in Oldham and said they had been gritting the network but had faced difficulties.
"The problem is we don't throw magic fairy dust on the roads. It's actually salt," he said.
"With the amount of snow we had - 3cm or 4 cm - it takes time to react with the snow and traffic."
Transport for Greater Manchester (TfGM) said that services from a bus depot operated by Stagecoach in Wigan were disrupted until at least 11:00 because it was cut off by snow.
Bolton Council said it had suspended refuse collections on Wednesday because of the weather.
Metrolink said it had been running trams overnight to stop snow and ice building on overhead lines and tracks and it had also gritted platforms.
Highways England said there were delays of up to 90 minutes on the M6 southbound between junction 27 for Standish and junction 25 for Wigan while work was ongoing to clear snow from two lanes of the carriageway.
The M56 sliproads serving Manchester Airport were closed early this morning before reopening.
A spokesman for Highways England said the North West's motorways were gritted at 20:00 on Tuesday, at 02:00 on Wednesday and again at 08:00 on Wednesday.
"The whole of the network is open with a lane closed here and there because of the snow," the spokesman said. "It is very slow going in places."