Toilet charges at Liverpool, Manchester and Leeds stations scrapped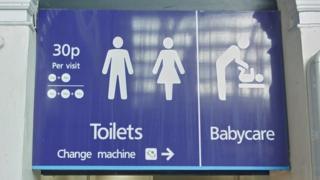 Toilets at three of England's busiest stations are to become free to use as a "long-overdue Christmas present for passengers", Network Rail has said.
It currently costs 30 or 40p to use facilities at Liverpool Lime Street, Manchester Piccadilly and Leeds.
However, a £15m boost announced by Rail Minister Andrew Jones means toilets will be free from 17 December, the infrastructure management body said.
A spokesman said it was the "first" of a number of planned improvements.
'Welcome step'
Figures released by Network Rail for 2016-17 show it received £4.8m from the stations that charge.
That is down from 2015-16 when £5.4m was paid by passengers using toilets.
The organisation's spokesman said it welcomed "the rail minister's funding package for passengers in the North".
"We will respond to this immediately and one of the first changes will be the removal of toilet charges at Manchester Piccadilly, Leeds and Liverpool Lime Street," he said.
"This is a long-overdue Christmas present for train passengers in the North."
Anthony Smith, the chief executive of independent watchdog Transport Focus, said the scrapping of charges was a "welcome step for passengers", which would "signal the end of fumbling around in your pocket for change to spend a penny".
"It's vital that the benefits of the £15m package is spent on things that matter to passengers across the north of England - improved reliability and less uncertainty caused by disruption," he added.
Charges for the toilets at several mainline stations in London have been scrapped since 2016.