Rail worker refused ramp for disabled girl at Salford station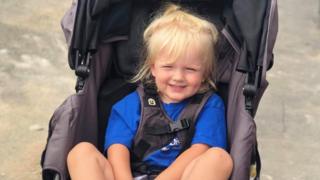 The family of a disabled girl were left "embarrassed" after a railway worker refused to help their three-year-old daughter board a train in a disability buggy.
Scott Parkinson and wife Kayley were travelling with Evana when a guard at Salford Crescent withheld a ramp because he believed the buggy was classed as a child's pram.
The child, who has been diagnosed with a genetic disorder, was eventually helped by another member of staff.
Operator Northern has apologised.
The family was returning to their home in Spring View, Wigan, on Tuesday after a weekend in Southampton.
'Walked off'
Mr Parkinson, 31, said his wife had pre-arranged assistance at all other stations in order to get their daughter's 18kg (40lb) buggy on board trains.
However, they were forced off a train at Salford Crescent when the service between Manchester Piccadilly and Wigan was unexpectedly cancelled.
Mr Parkinson said the family were then shocked when a rail worker said he would not help them because ramps were only available for wheelchair users.
"The platform was very busy and he began asking other passengers whether they thought it was a pram or a wheelchair," he said.
"I showed him the sticker on the side which clearly shows a disabled symbol, but he just walked off.
"It was embarrassing. But thankfully Evana didn't know what was going on."
Mr Parkinson said the family were grateful to staff who had helped at stations in Birmingham and Manchester, but would no longer use Northern trains.
A spokesman for Northern said: "We are currently investigating what happened and will speak to the customer again as soon as possible as part of this process."