Teen loses High Court bid to have 'sexting' record wiped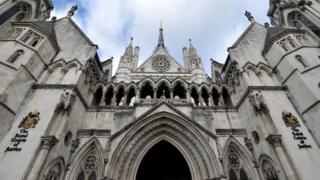 A teenager accused of "sexting" girls at his school has lost a High Court bid to force police to delete the crime reports.
The boy claimed that it was a "disproportionate interference" with his privacy for Greater Manchester Police to keep them.
He was also worried the information could be disclosed to an employer.
Lord Justice Hickinbottom said keeping the details was "well justified" and the privacy interference was "modest".
The teen, who was aged 14 and 15 at the time, was said to have swapped explicit photos with two girls at his school, which led to a police report being filed after he allegedly passed on one girl's photograph to another student.
Another girl later alleged the boy had threatened to tell people they had slept together if she refused to send indecent pictures of herself.
Lawyers for the teenager, who was known only as CL, said it was unlawful that the "blanket and indiscriminate approach to recording personal details" did not recognise that he "was a minor".
Amanda Weston QC, representing the boy, said at a hearing last year that the potential impact on him was "immense" and "likely to have a number of consequences for him".
However, Lord Justice Hickinbottom said that "the three reports (if true) fit a pattern of behaviour in the claimant that, over time, was increasingly serious".
He added that "the public interest considerations justify the retention of the personal information of the claimant".
He also found that "each element of recording, retaining and disclosing non-conviction information by the police" is subject to "intensive regulation" with a "myriad of safeguards".
Those safeguards meant that "the system is not arguably unlawful nor does it constitute a risk of unlawfulness", the judge added.