Oldham Italian restaurant admits garlic bread allergy error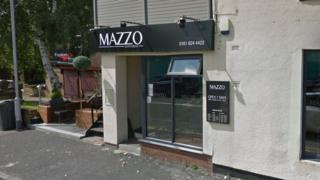 An Italian restaurant that served a customer garlic bread containing gluten despite it being advertised as gluten-free has been fined.
The gluten intolerant woman was left suffering chest pains and sickness after eating at Mazzo in Royton, Oldham, the town's council said.
Tony's Italian Ltd, which trades as Mazzo, admitted two breaches of the Food Safety Act.
Magistrates ordered the business to pay a £1,000 fine and £1,250 costs.
Oldham Council, which brought the prosecution, said the customer had specifically asked for a gluten-free dish during her visit in May.
The message was not accurately conveyed to staff in the kitchen, the council added.
Deputy leader Arooj Shah said: "This incident was caused by human error but procedures must be in place to ensure there is no room for mistakes to happen.
"Allergic reactions can make people very ill. Companies specifically advertising gluten-free alternatives must ensure the food they provide is safe for customers with an intolerance, or face action."
More news from the North West of England
Tony's Italian Ltd pleaded guilty to charges of rendering food injurious to health and selling garlic bread which was not of the nature demanded by the purchaser.
The business was fined £500 for each offence and also ordered to pay a £50 victim surcharge at Tameside Magistrates' Court.
Caterers are required by law to provide accurate allergy information on all foods sold unpackaged.