Factory 251: Bouncer attack club has licence suspended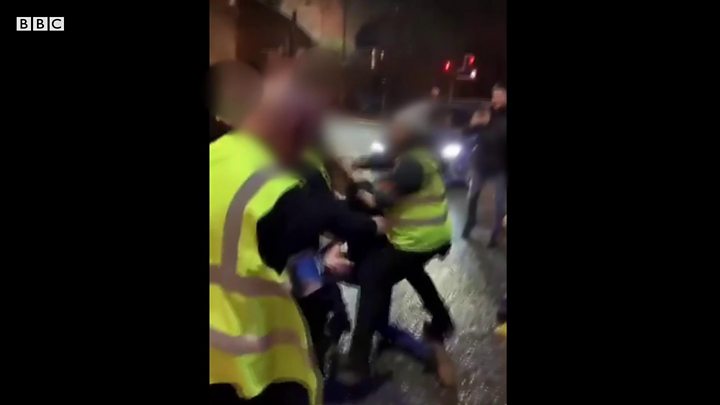 A nightclub where a teenager and his friend were attacked by bouncers has had its licence suspended pending a full review.
Doormen from Manchester's Factory 251 were sacked after Joe Sharratt, 18, was knocked out outside the club on Sunday.
Manchester City Council's licensing committee made the decision following an urgent review of the club's licence.
Footage showed rugby league player Mr Sharratt being felled and his friend Leon Cooper, 18, being hit repeatedly.
Solicitors representing Factory said the club would not be challenging the ruling.
Requesting the suspension, police told an emergency meeting of the council's licensing committee that it had "extreme concerns" about the level of violence used by bouncers.
The eight bouncers involved in the incident have been sacked and their licences to work as door staff suspended by the Security Industry Authority.
Noting that the venue did not call the police about the attack, Alan Isherwood from Greater Manchester Police said: "It's easy for the premises to put it down to the door staff but it's abundantly clear that there was a huge lack of duty of care."
He described the lack of reports to police as a "huge problem".
Over the past 12 months, there were 34 assault crimes at Factory - some of which included the door staff. The club reported only four of them, he said.
Police have launched an investigation into the attack after Mr Sharratt, who plays for St Helens RFC, suffered a bleed on the brain.
A spokesman for the rugby league club said he would stay in hospital for "the next couple of days" but was "sat up in bed and recovering well".
Solicitors for Factory told councillors that the club's owners agreed it was important it stayed closed while a full review was carried out.
They said that Factory's Mark Barker cradled the back of Mr Sharratt's head, which was "an open wound at the time", checked he was breathing and stayed with him until medics arrived.
Mr Barker spoke to the hearing, where he described the doormen's behaviour as "vile".
No arrests have been made over the attack.
A full review into the venue's licence will take place before 31 December.