LBC host criticised for mocking reporter's 'guide horse'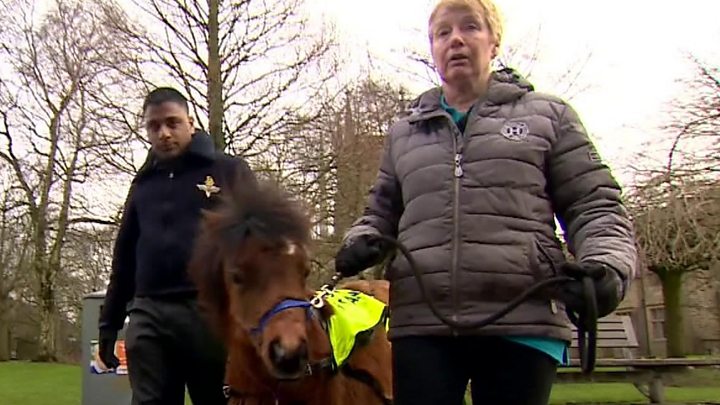 An LBC radio presenter who mocked a blind BBC journalist for using a guide horse because of his fear of dogs has been criticised by Ofcom.
Steve Allen told listeners he had "never heard of anything so stupid" and suggested the reporter should be given a dog and "told it is a rabbit".
Mohammed Salim Patel, who is partially sighted, works for BBC News in Salford.
Ofcom upheld a complaint from a listener and ruled Mr Allen's comments had breached its code of conduct.
During his morning show in October, Mr Allen also said: "To give him a horse is quite ludicrous. He's afraid of dogs. Why? Why's he afraid of dogs? Well don't give him anything at all then. Just give him a white stick."
A spokesman for Ofcom said: "Mr Allen seemed to be implying that people who are blind cannot differentiate between a rabbit and a dog.
"We considered that this remark could have been interpreted as belittling blind people, and offering a highly pejorative view of them.
Reacting to Ofcom's ruling, Mr Patel said he was left "disgusted" by the comments.
He said: "I feel disgusted that a broadcaster who is being paid to sit on the radio feels it appropriate in this day and age to question the intellectuality of not just me but blind people in general, and to think that we don't have the capacity to know the difference between an animal or something like that.
"It's disheartening and upsetting for me to know this attitude still exists.
"And especially by someone who has access to a platform to share that view to other people, who might then think it's acceptable to think like him."
You may also like:
LBC declined to comment on the ruling.
However, responding to the initial complaint, the station earlier said Mr Allen had been "expressing genuine surprise at the story".
He had "rhetorically questioned the practicality of using a guide horse within an office space or on public transport", the station said.