Oaklands School: Head failed pupil over 'forced sex' claim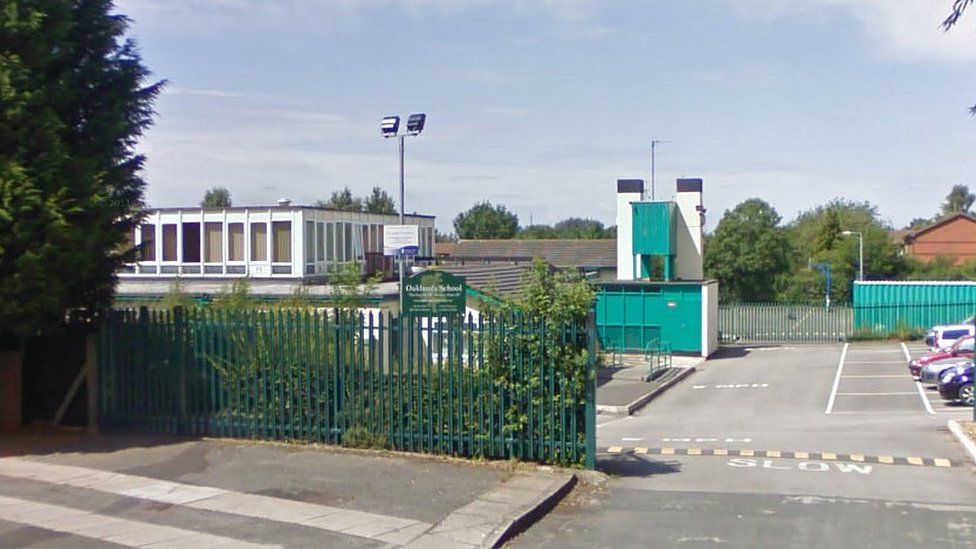 A special school's head teacher and assistant head failed to tell police a teenage pupil was forced to "undertake a sexual act", a panel has heard.
Head Kevin Boyle and Brendan Maguire failed to "take appropriate action" after a girl made the allegation at Oaklands School in Winsford.
The Cheshire school caters for children with moderate learning difficulties.
A disciplinary panel ruled Mr Boyle and Mr Maguire were guilty of "unacceptable conduct" and banned them from teaching.
The Teaching Regulation Agency's professional conduct panel was told Mr Boyle was "a very experienced head teacher and associate Ofsted inspector", while Mr Maguire was "an experienced senior leader".
However, it heard the mother of the girl had provided Mr Maguire with information "to the effect that [her] boyfriend had forced her to undertake a sexual act against her wishes".
He recorded the disclosure as "an allegation of inappropriate sexual coercion" on a "cause for concern form" two days later, the panel was told, and discussed it in "one or more conversations" with the school counsellor in the weeks that followed.
Mr Boyle, meanwhile, failed to report the allegation to police or the local authority despite also discussing it with the counsellor and receiving a copy of the form, the panel was told.
Despite both men having "safeguarding training" and a referral being "clearly required", the panel said the decision was taken to handle the claim "internally as a pastoral issue".
This was something the panel was "particularly concerned" about.
It ruled Mr Boyle "did not manage this safeguarding incident in an effective manner" and Mr Maguire had "allowed a serious incident to go unreported" and "demonstrated a cavalier attitude".
"He by-passed good safeguarding practice by wrongly applying his own judgment on a clear and significant safeguarding matter [and] thereafter failed to follow up on matters surrounding the facts that he was aware of," the panel said.
Banning Mr Maguire from teaching indefinitely, the panel said he had shown a "lack of real insight into the seriousness of his failures".
However, it said Mr Boyle, who was also banned indefinitely, had "shown true regret, remorse and insight into what happened".
Oaklands School has been approached for comment.
Related Internet Links
The BBC is not responsible for the content of external sites.