Stockport vicar told girl sex was 'what God wanted'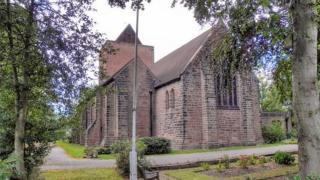 A married vicar told a "vulnerable" teenage girl she would be "disobeying him and God" by refusing his sexual demands, a tribunal has ruled.
Simon Marsh, 59, had an "inappropriate relationship" with the girl which began at his Stockport church when she was 15, a Church of England tribunal heard.
Removing him from office, the panel heard that at one point, he had told her the sex was "what God wanted".
In 2015, he was told he would not face any charges over allegations of rape.
The tribunal heard testimony from the girl, who cannot be named for legal reasons, about Mr Marsh's actions while he was the vicar of St Michael and All Angels church in Bramhall between 2010 and 2014.
'What God wanted'
She said the vicar had been involved in her baptism and confirmation in 2009 and subsequently, the pair would meet when his wife, who has since died, was away and he bought her gifts, including an iPad and perfume.
On one occasion, the vicar told the girl, referred to as Ms XY, it was her "duty" to perform a sex act on him because he was angry she had spilt coffee on his lap, the panel heard.
The following year, he made her have sex with him shortly before her 18th birthday, telling her she had "asked for this" and it would "unite their souls".
Ms XY also said that later that year, after Mr Marsh got angry when someone had mistaken him for her father during a trip to Chester, he had tied her to a headboard at the vicarage and had sex with her despite her protests and "obvious pain", telling her it was "what God wanted".
The panel said it did not accept his denials of "sexual improprieties", called him a "deeply unsatisfactory" witness and said all allegations against him were "proven".
As a result, he was removed from office and prohibited from any ministerial functions for life.
The Bishop of Chester, the Right Reverend Peter Forster, said in a statement it had been an "inexcusable tale" of abuse of trust and power.