Manchester police chief calls for fireworks sale ban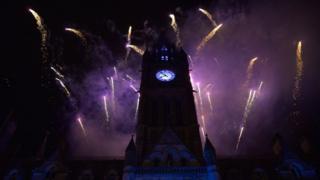 The sale of fireworks to the public should be banned as a way of tackling anti-social behaviour, Greater Manchester's chief constable has said.
Ian Hopkins said the use of the pyrotechnics should be restricted to just professional displays to stop young people "terrorising" communities.
He made the comments after residents said they were scared by fireworks being set off on an estate in Tameside.
But firework manufacturers said most people used fireworks responsibly.
Mr Hopkins said he did not want to come across as a "party pooper".
"We cannot go and purchase a weapon, the sale of knives is being restricted," he added.
"The time has come to do the same around fireworks."
Mr Hopkins said every year in the run-up to Halloween, Bonfire Night and Diwali, both fire and police services were left struggling to cope.
"We need to restrict the sales to young people who think it is acceptable to go around and terrorise communities," he said.
"The answer cannot be that more firefighters and more police officers turn up to deal with this and people are scared to go out of their homes."
Fireworks can be purchased by anyone aged 18 or older but it is against the law for them to be used on the street or in public places.
It is also illegal to set off fireworks between 23:00 and 07:00, except on certain occasions.
People can be fined up to £5,000 and imprisoned for up to six months for selling or using them illegally.
The British Fireworks Association, which represents the majority of the UK's manufacturers and importers of consumer fireworks, said it disagreed with Mr Hopkins.
"The vast majority of people using fireworks do so safely and responsibly and with proper consideration for other people," it added.
"The law is in place for the police to crack down on people misusing fireworks."