Homeless woman lives in Wigan Wendy house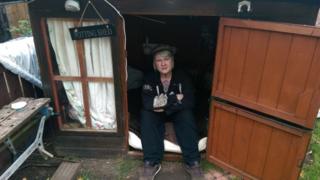 A woman has resorted to living in a Wendy house after hitting financial troubles and finding herself homeless.
April Fillingham, 27, from Hindley in Wigan, has been sleeping in the wooden outdoor play house in the garden behind her mother's bungalow for six months.
She said: "It's cold and there's a drip from the roof. Sleeping's a nightmare."
Wigan Council said her three council tenancies had ended "due to anti-social behaviour" but it was working towards "a more permanent and stable tenancy".
Ms Fillingham said she was left homeless after she had to move out of her rented accommodation due to financial difficulties and her mother's health and lifestyle differences mean she cannot share the bungalow.
"It was alright in summer but now it is pretty cold. I'm the length of it and if I put my arms out, I go out the door - it's literally a kid's Wendy house.
It's not the greatest or the warmest... I've got my TV, a little radiator and a lamp and my guitar - that keeps me busy," she said.
Ms Fillingham said private rent is "just unreasonable" and after being evicted from her council property in 2009, she ended up "living in a number of places that just haven't worked out".
"I'm 27, I should be able to be living on my own... I'm lucky enough that I'm not in a doorway and I'm grateful for that but there's still a problem.
"I just want somewhere to live - to call my own, where I can go and look after myself and get on with my life," she said.
You may also be interested in:
Joanne Willmott from Wigan Council said it was "committed to helping individuals into stable accommodation" and ensuring "people receive the right support".
"Unfortunately, April has had three previous council tenancies which have all ended due to anti-social behaviour. As a responsible council, we have a duty to protect other residents.
"We have made an offer of temporary accommodation and are also providing ongoing advice and support whilst we work together to achieve a more permanent and stable tenancy."