Driver 'lucky' to survive crash after metal poles 'flew' into his car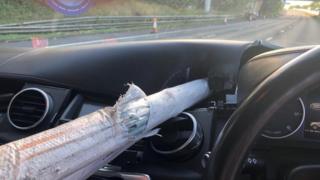 A driver had a lucky escape when metal poles from a van smashed through his window and into the dashboard.
The motorist, who does not want to be named, walked away unhurt after his Land Rover was caught up in an eight-vehicle crash on the M56 near Manchester, his wife said.
He was "completely shook up" but "absolutely fine", she added.
The van driver was reported for driving without due care and attention and having a dangerous load, police said.
One person was injured in the crash, which happened at about 17:25 BST on Monday between Junctions 5 and 6, a Greater Manchester Police spokesman said.
The driver had to brake hard, avoiding a woman in a Fiesta, when the van behind hit him and the steel construction supports went "through the back to the dashboard", said his wife.
She described the incident as "carnage" but said they now wanted to "just forget it happened".
The police spokesman said the driver had had a "lucky escape".