Extremist jailed after IS propaganda found on his phone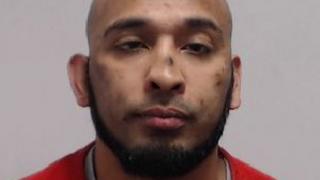 A man who had extremist propaganda on his phone has been jailed for four-and-a-half-years.
Atiq Ahmed, 35, of Copster Hill Road, Oldham was arrested after religiously abusing staff at a school in Oldham.
Officers also found terrorist and other Islamic State group material on various devices, Manchester Crown Court heard.
Ahmed admitted five counts of possessing information likely to be useful to a person committing or preparing an act of terrorism.
The court was told that after his initial arrest in October 2017, a search warrant was executed at his home two months later.
Officers seized a number of electronic devices, including a tablet found in the kitchen bin containing a 16GB memory card.
Stored on the card were copies of an extremist magazine including information on terrorist tactics and instructions on how to make a viable device.
'An atrocious incident'
Det Supt Will Chatterton, head of investigations for Counter Terrorism Policing North West, said: "Ahmed actively tried to hide his electronic devices from officers by disposing of them in a kitchen bin.
"He also refused to give officers initial access to them in a further attempt to conceal the disturbing material that he stored on them.
"This outcome was made possible by a victim of hate crime coming forward and reporting an atrocious incident to the police."
Ahmed was also given a 10-year criminal behaviour order, which will come into effect after his jail term.
Under this order, he will be required to give police access to any devices on demand to see if he is accessing extremist material.