Woman lost child due to North West Ambulance 'failings'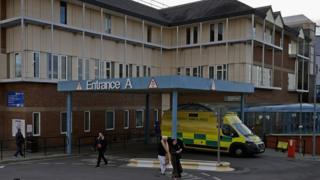 A pregnant woman lost her baby after paramedics failed to adequately assess her, delaying her transport to hospital, a coroner has concluded.
Jessica Harland "could not be resuscitated" at Royal Oldham Hospital in October.
A spokesperson for North West Ambulance Service (NWAS) admitted it had not provided "the very best of care".
Her mother, Sarah Grimes, said: "I cannot begin to describe how difficult the last 10 months have been."
She rang 999 on 12 October and an ambulance was dispatched to treat her.
Senior coroner Joanne Kearsley said: "An adequate assessment and examination was not carried out and the gravity of the presenting situation was not recognised."
In a narrative verdict, she said there was "therefore a delay in transporting the mother to hospital".
"This led to a delay in delivery of at least 15 minutes."
"At the point of delivery there was a placental separation, which led to Jessica suffering acute blood loss," she added.
'Crucial time lost'
Ms Grimes, who was at the inquest with her partner Garry Harland, said: "We put our trust and our lives in the hands of the ambulance service."
She said paramedics "had all the information they needed to recognise that I needed emergency care".
"Their failure to recognise this led to crucial time being lost in getting me to hospital - time that cost my daughter her life."
She said she was "happy that the coroner has today recognised those failures", adding: "I feel that the hospital staff did everything they could to try and save Jessica".
A NWAS spokesperson expressed "sincere condolences to Jessica's family for their very sad loss".
"The trust strives to provide the very best of care to all of our patients and we acknowledge that on this occasion, this was sadly not the case."
NWAS said its internal review "identified that there were failings" and that it had made improvements in training, which it had "shared with other ambulance services nationally to ensure improved care".