Dead children sent school admissions letter in Manchester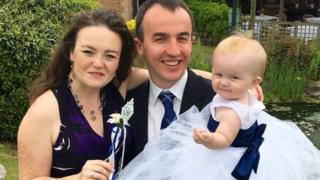 The grieving parents of nearly 100 dead children have received council letters on how to enrol them for school places.
The blunder by Manchester City Council has left many distraught, leading the council to send written apologies.
"It was very upsetting," said Sarah Stephens, whose daughter Violet died two years ago aged 15 months.
Manchester's Director of Children's Services, Paul Marshall, said the council "apologised unreservedly".
The letter dated 20 August informed parents their child had to be registered by 15 January to be considered for a school place in September 2018.
Mrs Stephens said the letter was first opened by her husband when it arrived at the couple's home in Egerton Road, Manchester.
"My mother-in-law was staying with us and she became very distressed when he showed her the letter after she asked what had upset him," she added.
"It has upset the whole family," Mrs Stephens said.
She added: "The council have made things worse with their letter of apology.
"We are told it was a personal letter but it is written as Dear Parent - which doesn't sound very personal to me.
"I've heard about one woman who is in bits after receiving the first letter," she added.
Mr Marshall said: "This letter clearly should not have been sent and we apologise unreservedly for the distress it has caused.
"Our initial investigation shows that a number of such letters may have been sent out in error to families and we're reviewing all our systems to make sure this cannot happen again.
"I will be writing directly to the families who have received this letter to give them my personal apology and to tell them again how truly sorry we are about this mistake."
It is understood 95 letters were sent out by the city council.