River Mersey moved in Stockport over gas pipe fears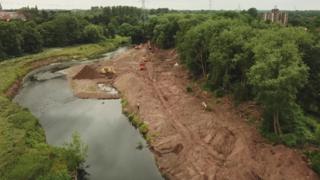 The River Mersey is being rerouted to where it flowed in the 1960s to protect the gas supply to homes in the area.
Decades of erosion along the banks of the River Mersey were threatening to cause a high-pressure gas pipe beneath Stockport to collapse.
Cadent Gas is diverting a 400m (1,300ft) section of the river to the course it took in the 1960s.
The bank of the river will be moved about 40m (130ft) once the project is finished in October.
The pipe was laid in 1961, well away from the banks of the Mersey a few miles away from the point where it is formed by the River Tame joining the River Goyt.
'Unique project'
The natural process of erosion had gradually moved the river closer to the pipe, which supplies 250,000 homes and businesses.
Cadent spokeswoman Sara Wilcox said: "This is a unique project.
"We have never moved a river on this scale before."
Diggers started moving hundreds of tonnes of earth to create a new bank in June, but the engineering task facing Cadent Gas, which owns the pipe network serving the North West, has been two years in the planning with landowners and the Environment Agency.
The £1m project went beyond the feat of moving a river - it had to accommodate the wildlife which makes the Mersey its home.
They include sand martins, which nest in the banks, and migrating salmon which make their way upstream to spawn.
The final part of the work will be delayed until after September to ensure the birds have left the banks for warmer climes.
To reduce the flow of the river and prevent further erosion, it was widened and fitted with "riffles" - underwater speed bumps - to slow down the water.
The final phase of the project will see willows and wild grasses planted on the riverbank to restore natural habitats.