Manchester Oxford Road bus lane signs 'below standard'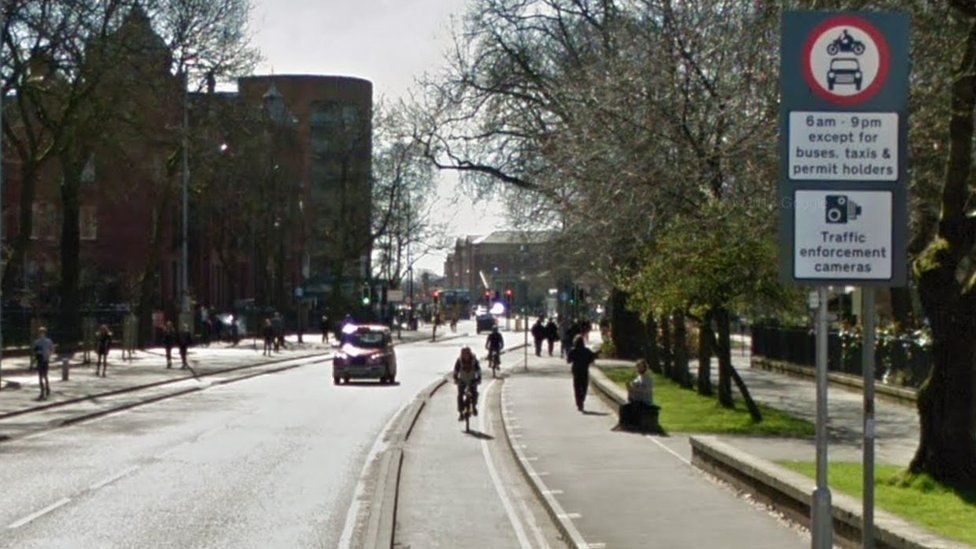 Hundreds of thousands of motorists have been fined for driving in a bus lane in Manchester despite "inadequate" signs, an adjudicator has ruled.
The Traffic Penalty Tribunal (TPT) said signs on some sections of Oxford Road "fail to meet the required standard".
Manchester City Council has issued 345,000 penalty charge notices since introducing bus gates on the road in September 2017.
A council spokesman said the signs are fully compliant with the law.
The tribunal said 530 of the 600 drivers who appealed had been successful with 316 of those - or 60% - on grounds of poor signage, the council confirmed.
A tribunal spokesman said: "Adjudicators have found that the signs on some sections of the Oxford Road bus route fail to meet the required standard, taking into account the signs regulations and the Department for Transport guidance to authorities in the Traffic Signs Manual."
Vehicles other than buses, black cabs and cyclists are prohibited from sections of the two-mile bus route between between 06:00 and 21:00 daily.
Since the restrictions were imposed, almost 1,000 motorists per day have been handed £60 fixed penalty notices although this is reduced to £30 if paid within 14 days.
Motorists caught driving on Oxford Road said the signs were "confusing" or, in some cases, obscured from view.
A council spokesman said: "While appeals involving a tiny proportion of the penalty charge notices issued have been upheld by adjudicators on grounds of signage, the council's view is that the signs are fully compliant with the relevant legislation and provide adequate notice of the bus lanes and diversion routes."
He added the council keeps signage and bus gate operations under constant review and "a reasonably diligent motorist will be aware of both the diversion and enforcement signs."
The spokesman also said "drivers on literally millions of journeys have correctly followed alternative routes avoiding Oxford Road since the bus gates there became operational last September - significantly reducing journey times for bus users as well as improving the experience of cyclists and pedestrians."
The Department for Transport has yet to comment.
Related Internet Links
The BBC is not responsible for the content of external sites.