Prevent scheme: Report highlights Muslims' 'persecution' fears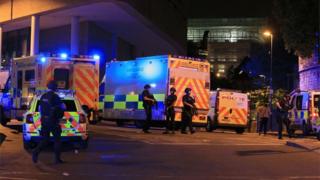 There is a "genuine fear" that the government's counter-terrorism strategy is targeting Muslims in Greater Manchester, according to a new report.
A Shared Future was commissioned by the region's mayor Andy Burnham after the Manchester Arena attack in May 2017.
The report said a lack of information about the Prevent scheme had led to a "fear of persecution" among Muslims.
Security Minister Ben Wallace said the biggest challenge to Prevent was "inaccuracies" in perception.
Prevent's critics claim it "disproportionately targets" Muslims.
Prevent is part of the government's counter-terrorism strategy and is designed to support people at risk of carrying out terrorist activities.
The report was set up to consider how to tackle extremism, social exclusion and radicalisation across Greater Manchester in the wake of the Arena attack on 22 May 2017, which killed 22 people.
It said there was "no causal pathway that leads to extremism" and it was "unwise" to attempt to identify vulnerable groups.
It also recommended there should be an effort to move Prevent away from police and law enforcement to the safeguarding of people at risk of radicalisation.
Mr Burnham said he wanted to "challenge false perceptions" of Prevent despite previously saying it should be scrapped.
Manchester Arena suicide bomber Salman Abedi was not known to the Prevent scheme, Greater Manchester Police had previously said.
However, two people who knew him while he was at college made separate calls to an anti-terrorism hotline about his extremist views.
'Division and alienation'
The report from the Greater Manchester Preventing Hateful Extremism and Promoting Social Cohesion Commission said the current strategy was "vital to community safety" and "vulnerable people were being safeguarded".
But it said much of the positive work "was not being appropriately disseminated into communities".
The mayor said Prevent was "working well" in many areas but he accepted the need to provide more information about it.
Prevent has been backed by senior police figures, but criticised by some who said it was "counter-productive".
Siema Iqbal, a Manchester GP who is the co-founder of Advancing Voices of Women Against Islamophobia, said it was "almost offensive" to suggest Muslims were critical of Prevent because of a lack of understanding.
She said the Muslim community was "being disproportionately targeted by a strategy that has repeatedly been shown to be counter-productive".
In 2016, Mr Burnham, then shadow home secretary, called for a cross-party review of the strategy, The Guardian reported.
Shortly after the Manchester attack, he said he "didn't back away" from the comments, saying Prevent had led to "a sense of division and alienation" among some British Muslims.
---
Other report findings
There is no single cause of individuals becoming radicalised
Youth services and activities require increased investment
Engagement with the community led by the public sector rarely reaches the general public
A lack of 'safe spaces' to hold difficult conversations
A need for informal places to seek advice and report concerns