Manchester-Leeds rail electrification: Minister 'reneging' on pledge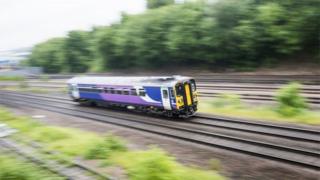 The rail minister has been accused of "reneging" on commitments after failing to confirm plans to fully electrify the Manchester-to-Leeds route.
Tory frontbencher Jo Johnson told MPs an announcement on the Transpennine route upgrade would be made later this year following a Network Rail report.
He said the scheme will include "major civil engineering projects and electrification" but stopped short of guaranteeing full electrification.
MP Lucy Powell said it was a "blow".
Mr Johnson said the government was awaiting Network Rail's "final options plan" about how to make best use of the £2.9bn for the upgrade before its statement later in the year.
'Second-class service'
Ditching electrification would also scupper plans to send freight through the Pennines, connecting docks at Liverpool, Teesport, Immingham and Hull.
Shadow transport secretary Andy McDonald said if investment was pulled it would "kill any notion of a Northern Powerhouse".
Labour's Lucy Powell MP for Manchester Central said: "Coming off the back of all the turmoil that we've seen on Northern rail and elsewhere recently, isn't this equivocation on the electrification of the Manchester to Leeds line just another real serious blow for people in the north, who now feel overwhelmingly, time and time again, they are getting a second-class service from this government?"
She pushed Mr Johnson to say the electrification of the line is of such strategic importance it will happen "come what may".
However, he replied the government was "signalling its political commitment" to the north of England by spending £13bn on transport in the north by 2020.
Labour's Mike Kane MP for Wythenshawe and Sale East said Mr Johnson was "reneging" on the commitment.
Follow BBC North West on Facebook or on Twitter. And we would love to hear your story ideas - please email northwest.newsonline@bbc.co.uk.