Saddleworth fire: Army will stay on while moorland burns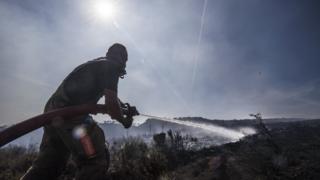 The Army will extend its stay in Saddleworth to help keep on top of the moorland blaze.
About 100 soldiers joined forces with firefighters on Thursday for an initial 48-hour deployment.
The military's presence was extended by three days on Friday afternoon after a request by Mayor of Greater Manchester Andy Burnham.
Seven square miles of land between Tameside and Oldham has been ablaze, blanketing the region in smoke and ash.
Greater Manchester Fire and Rescue Service said on Friday night 160 firefighters remained at the scene with crews having travelled from as far as Gloucestershire to lend support.
It said air quality had improved but residents living nearby should keep doors and windows closed.
On Friday the fires on the peat-embedded terrain and dry shrubland were contained, but it could take weeks to be fully extinguished with no prospect of rain in the next week.
With possible changes in wind conditions, and stretched resources throughout the region in mind, Mr Burnham wanted the 100-strong A Company of the 4th Battalion, Royal Regiment of Scotland - known as the Highlanders - to extend its stay in the region.
He said: "This has probably been the busiest week for Greater Manchester Fire and Rescue Service (GMFRS) in living memory."
"As it is an ongoing situation and because there has been in some places a flaring up today of the fire, we believe we continue to need large numbers of people out there providing support."
The acting chief fire officer GMFRS Dawn Docx said they were "containing the fire" but that it was "taking a lot of effort, a lot of resources", with assistance from fire and rescue services "up and down the country".
She added: "We can't say when it might be extinguished. It could be days, it might even be weeks.
"This weather obviously isn't helping at all. What we need is a real downpour and that will do the trick."
Air quality in the affected areas continues to be monitored by Public Health England and Tameside Council with people urged to keeps windows and doors shut.