How crews are tackling the blaze near Saddleworth Moor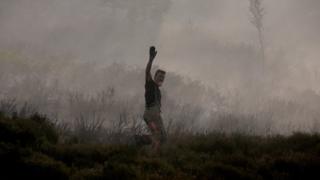 Tackling moorland fires poses a unique set of challenges far removed from an urban blaze.
Images of firefighters caked in soot and sweat reflect the arduous conditions on the scorched hills above Greater Manchester.
The biggest test for crews near Saddleworth Moor is reaching remote fires with water and manpower.
Once there, they face intense heat and the danger of being caught out by flames whipped up by strong winds.
An arsenal of equipment and expertise is on hand, but dousing and beating the flames to starve them of oxygen remains a low-tech and back-breaking endeavour made tougher by the ongoing heatwave.
'Water relay'
Rob Taylor, from Derbyshire Fire and Rescue Service, said reaching the often remote location of the seat of the fire is one of the biggest hurdles.
Crews and water may need to travel several miles from nearby roads to bring fires under control.
'Apocalyptic' moors fire continues to rage
While beating flames to starve them of oxygen is partly effective, a deep-seated blaze requires soaking with water to stop it spreading, said Tony Wellock, from Greater Manchester Fire and Rescue Service.
Fire engines each carry about 1,800 litres of water but struggle to move across bumpy moorland terrain.
By linking seven hoses together, a so-called "water relay" can allow crews to stretch supplies up to 200m (656ft).
Mr Taylor said the most effective way to fight moorland fires is by helicopter but it comes at a significant cost, requiring funding from the landowner.
"Access to water is our biggest challenge - the pumps will be exhausted in five to eight minutes of continuous use."
An eight-wheeled Argocat vehicle, which can move swiftly across the landscape, can be used for remote blazes.
"It carries what looks like a giant pressure washer and allows us to reach some remote terrain, but there's a limit to the amount of water it can carry," he explained.
'Wind is our enemy'
The moors are at the mercy of strong winds which can whip smouldering embers into a well-developed blaze in seconds.
Mr Taylor said flames which rapidly change direction could place crews at risk. The danger is mitigated by using teams of spotters to monitor speed and direction.
"The Peak District National Park rangers are invaluable to us - they understand the wind and how it will blow the fire around," said Mr Taylor.
Beneath the scrub and heather burning above the surface, roots and peat are prone to burning underground - and can spread undetected.
Mr Wellock said: "When you put the fire out, it springs up again behind you."
However, there are some features of the landscape which can be used to firefighters' advantage.
"Where there's a break, like a road, we can damp it with water to keep it cool and it will stop the fire from spreading," said Mr Taylor.
Firefighters adopt more lightweight kit for tackling a blaze in the open countryside and eschew breathing apparatus for dust masks, except during the smokiest parts of the work.
They can expect to work in 60-minute stints at the frontline of the fire before being relieved by another crew, rotating in shifts of four to five hours.
Each engine carries water and snack bars to keep crews fed and hydrated. Those fortunate enough to get a longer break might have chance to eat a ready meal prepared using hot water before resuming work.
Crews on the moors are often exposed to heat and smoke for longer periods compared to the intense challenge of a house fire.
"This is the most arduous work our crews carry out," Mr Taylor added.