Manchester Airport disrupted by power cut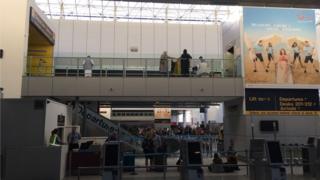 Passengers at Manchester Airport faced delays due to a power cut that lasted more than two hours at one of the terminals.
Flights into and out of terminal 2 were affected by the outage, the airport confirmed.
One woman said the terminal was in darkness and people could not get off flights or check in.
Manchester Airport said at about 21:45 BST the power had been restored and apologised for the inconvenience.
One woman, who did not want to give her full name, said: "The terminal is in darkness and all screens are blank.
"They can't off load the planes and can't check people in and air bridges aren't working."
"People don't know what's happening and have been sat in boiling hot queues for over an hour with kids," she added.
"I can't see water or anything being handed out."
She said airport staff had apologised but passengers had not been given any other information.
She said she felt forced to leave the terminal as it was "way too warm" and added "people are gathering outside, people are laying on the floor".
Kevin O'Neill tweeted that he was stranded at departures with three children.
Kris also tweeted after landing at the airport apparently unable to disembark due to the outage.
In a statement, the airport said the power failure was a result of an HV power cable interruption.
It said eight flights in Terminal 2 were impacted, four of which were inbound and processed through Terminal 1 instead.
The airport said: "Power has now been restored to Terminal 2 and check-in and security have reopened enabling customers to continue with their journeys.
"We thank customers for their patience and apologise once again for the inconvenience."