Man held over Jamaica deaths of British couple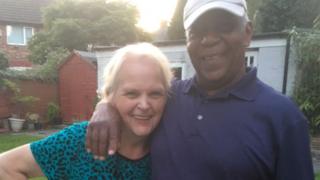 Police investigating the deaths of two British grandparents in Jamaica have arrested a man.
Charlie Anderson, 74, and his wife Gayle, 71, from Gorton, Manchester, had recently retired to the Caribbean island and were found dead on Friday.
The Jamaica Constabulary Force said in a statement on Twitter that a man was "picked up on Saturday" in Kingston and "is considered a person of interest".
The force has been contacted for further information.
The couple, who were also known as Halford and Florence and were married for 55 years, had moved to a rural community in Hope Bay, Portland, on the north-east of the island.
They were found dead in their home in Mount Pleasant by neighbours.
The Jamaica Constabulary Force tweeted "one man has been taken into custody as the detectives from the Criminal Investigation Branch Headquarters (CIB HQ) and the Maj Invest Division intensify the investigation into the death of the retired couple at their home in Portland on the weekend".
"The man, who is considered a person of interest in the matter, was picked up on Saturday afternoon at a business establishment in Kingston."
The couple's granddaughter, Stacey Anderson, 30, appealed on Monday for help with the investigation.
She said: "Please please speak to the authorities. I know that you might be scared but reach out to them and tell them everything that you know."