Water taxis end Manchester Bridgewater Canal trips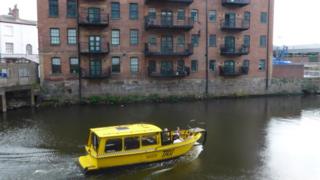 A water taxi service - or Waxis - for tourists and shoppers in Manchester has sunk after two years.
Manchester Water Taxis ran boats on the Bridgewater Canal from the city centre to the Trafford Centre, Media City UK, Old Trafford stadium and Sale.
Operator Steve Cadwell said investors withdrew when Transport for Greater Manchester (TfGM) would not fund access ramps and landings.
TfGM said it was looking at possible locations for landing stages.
The temporary closure of the canal, caused by work on the Ordsall Chord rail link, meant the loss of a £1m grant to build access ramps, landings and pontoons.
The money, secured by Salford City Council from the Local Sustainable Transport Fund, was instead used to support the Port Salford Greenway traffic-free cycling and pedestrian project.
After this setback, Mr Cadwell then called on TfGM to fund the infrastructure.
'Great asset'
He said: "All the plans have already been drawn up and the river has been surveyed years ago so that we know that it's sound for the infrastructure to be put in place.
"All they have to do is dust off these plans and put them back into place.
"We have stops there where people can hop on and be at MediaCity in 10 minutes and at town in five minutes.
"It's very narrow-sighted, I think, on TfGM's part not to say, 'Yes, we want to do this and we'll put the infrastructure in and bring it all together'. I don't understand why they haven't."
TfGM said: "Following the completion of the Ordsall Chord, we've resumed discussions with Salford City Council on how to move the proposals forward.
"These discussions have touched on possible locations for landing stages but are at an early stage.
"Any new funding through TfGM would be dependent on an up-to-date business case being prepared."
Salford Mayor Paul Dennett said: "I had personally used the service before and really enjoyed the journey, I thought it was a great asset for the city.
"The council viewed Waxi as part of an important step to create a regional centre that once again properly embraced its waterways by using it for everyday transport."
He added: "We are still seeking a new source of funding for the major investment needed for the landings and continue to believe that the river and all the other waterways, including the Ship Canal and Port Salford, will have an important role to play across Greater Manchester for moving people and goods in the future."