Four more emperor heads found in Oxford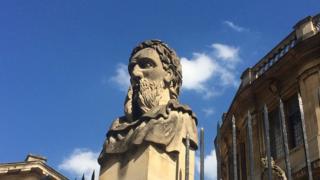 Four of 16 missing statue heads that once stood in front of an Oxford landmark have been found by a team of university researchers.
The carved figures known as the Emperor Heads, which sit outside the Sheldonian Theatre, were first commissioned by Sir Christopher Wren in the 1660s.
The current set, built in 1970s, is the third.
Twenty-three have now been found but there could be another 12 left to find, researchers say.
Professor Heather Viles, who began the research in 1996, believes many of the original 17th Century heads were given away to Oxford associates.
'Enigmatic history'
Scott Allan Orr, from the School of Geography and the Environment, said they wanted to study how the heads had weathered to improve conservation efforts.
"When the BBC covered our hunt for the heads in March, we received calls and found four more."
The team now aim to research the meaning of statues, their placement and their facial features before an exhibition next year.
Some of the retired heads can be found in the grounds of Wadham College and Worcester College in Oxford.
Margaret Pinsent owns two of the original 17th Century heads, which were found in a garden on Broad Street after her parents bought the house.
One figure from the first set, commissioned by Wren, has been traced to the garden of a home in Oxford.
Emperor facts
The current set of heads outside the Sheldonian Theatre dates from the 1970s.
In total 17 Emperor Heads stand outside the Sheldonian Theatre, with each weighing about a tonne.
The original set of heads was carved by William Byrd and commissioned by Sir Christopher Wren when the Sheldonian Theatre was built between 1664 and 1669.
One theory suggests Wren got the idea from seeing similar heads outside a chateau in France.
The first set was replaced in 1868 but the second generation eroded faster than the older statues and had weathered heavily by 1970.
Sculptor Michael Black spent two years carving the replacements, which were put in place in 1972.