Warrington ice cream man treats hospice staff and patients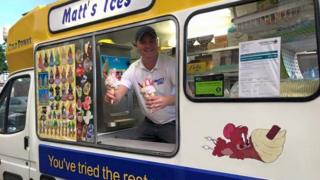 A ice cream man who treated a hospice's patients, staff and visitors says he has been overwhelmed by the reaction.
Matthew Bain, of Warrington, gave away free ice creams at St Rocco's Hospice in the town after being approached by a man who said his mother - a patient there - was craving one.
Mr Bain said his generous gesture was inspired by staff who had treated his grandmother.
"It was well worth doing," said the 39-year-old. "It made me happy."
A hospice spokeswoman said everybody there was "so grateful".
"Thank you Matt's Ices for this lovely gesture and for putting a smile on everyone's face on Wednesday evening," she said.
Mr Bain said he had been told by the gentleman who had approached him that his gesture had brightened up his mother's day and "put a big smile on her face".
The act of kindness was shared by somebody on Facebook.
Mr Bain said: "There were some lovely comments, some of them made me laugh saying things like not all heroes wear capes.
"I've only given away a few ice creams but people are treating me like I'm a king."