Urmston Jewish cemetery headstones smashed in 'hate' attack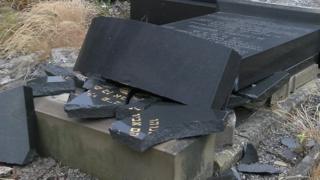 About 30 headstones have been pushed over and smashed at a Jewish cemetery in what police are treating as a hate crime.
Vandals targeted Urmston Jewish cemetery in Manchester on three occasions, causing £100,000 of damage.
Some of the headstones were left completely shattered.
Ian Levy, of Whitefield Hebrew Congregation, described the vandalism as "the most horrific example of mindless violence I have ever seen".
He said it may have been done by "youngsters with nothing better to do" or been motivated by "anti-Semitism".
Police are yet to make any arrests following the incidents, which happened on 7 and 14 May, and 10 June.
Urmston councillor Joanne Harding said: "I think it's shocking, disrespectful and really sad people would come and damage a cemetery where there is so much history."
The Labour councillor said there was a "real visible shock in the community" and people wanted the perpetrators to be identified.
Greater Manchester Police officers are investigating CCTV footage and have stepped up patrols in the area.