Police condemn 'appalling' violence at cycle festival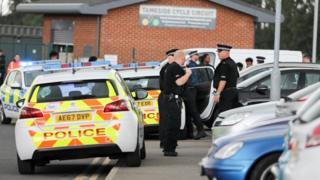 Police have condemned the "appalling" violence at a cycling festival in Greater Manchester that saw nine people hurt and eight men arrested.
Thirty protesters stormed the Eritrean event at Curzon Ashton's Tameside Stadium on Saturday, throwing bottles, food and beer kegs.
Organisers said frightened young children were put in danger by the violence.
It is thought the men were protesting against the Eritrean government.
The Eritrean Cycle Festival was attended by hundreds of people, with singing, dancing and appearances from cyclists who appeared at the 1964 Olympic Games in Tokyo and 1960 Games in Rome.
Organiser Goitom Seyoum, 48, said: "This had nothing to do with politics - this was purely a celebration of Eritrean cycling.
'Sad feeling'
"We had African champions here and people who appeared at the Olympics.
"It was a peaceful protest at first and then they barged in throwing bottles, food and beer kegs.
"It was outrageous - there were children in buggies and people cut and bleeding.
"This was supposed to be a festival but now we leave with a sad feeling.
"Young children were put in danger by these cowards."
Riot officers were deployed by Greater Manchester Police at the stadium in Ashton-under-Lyne.
Those arrested were held on suspicion of public order offences.
Ch Insp Andy Harty said: "The vast majority of people attending the event today were innocent people, including children, who sadly got caught in the middle of this appalling act of violence.
"This type of behaviour is completely unacceptable and I want to assure the residents of Tameside that we are doing everything we can to bring any offenders to justice."
A spokesperson for Curzon Ashton, who play in the National League North, said: "Police inquiries are currently ongoing and no further comment will be made at this time."