Call for Northern to compensate passengers for rail chaos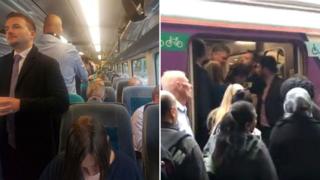 A rail operator must compensate customers for ongoing disruption after timetable changes, the body overseeing transport in northern England said.
Passengers are still facing disarray despite Northern removing 165 services a day until 29 July to deal with the impact of earlier timetable revisions.
Transport for the North (TfN) said it stood "firmly with passengers" as 38 services were cancelled or delayed by 12:00 BST on Tuesday and 100 on Monday.
More staff strikes have been called.
'Total chaos'
The Rail, Maritime and Transport (RMT) union said its members working on Northern are to stage fresh industrial action for 24 hours on June 19, 21 and 23 in the long-running dispute over driver-only operated trains.
RMT general secretary Mick Cash said Northern was "planning to shred the safety culture in the same way that they have shredded the timetables".
"This company has reduced the timetable to total chaos and the union will not allow them to slash the safety culture to ribbons in the same fashion."
He added the union's members had "remained rock solid" for over a year in a "clear-cut battle to put public safety before private profit", as the rail operator planned to "axe safety critical guards".
Northern confirmed the further strikes but is yet to respond to the RMT's comments.
The ongoing rail chaos has been met with growing frustration by many passengers affected who spoke of the stress of having trains cancelled or delayed at short notice.
Govia Thameslink Railway (GTR), which runs Thameslink, Southern and Great Northern, said about 48 services were cancelled or arrived significantly late and about 95 were less than 30 minutes late.
GTR is also operating a temporary timetable reduced by 230 services.
John Cridland, chairman of TfN, called for Northern to compensate advance ticket and season ticket holders, reduce the cost of journeys for disrupted passengers, and arrange ticket acceptance schemes with other operators.
TfN urged Northern to ensure that "services in total are at least as good" as before timetable changes, and said it was "deeply disappointed" that, after the change, "we are not yet seeing more improvement".
'Out of their depth'
Robert Nisbet, of the Rail Delivery Group, which represents rail companies, said it "takes time for a new timetable to bed-in, but yesterday we saw some improvements".
"Although performance across the railway is generally good, the rail industry is working hard to provide certainty to customers where there has been disruption," he said.
Some 25 newspapers in the North joined forces earlier to call on Prime Minister Theresa May to "get a grip" and arrange an emergency summit in Downing Street to find a solution to the crisis.
Tim Farron, MP for Westmorland and Londsdale, said Northern was "past [its] last chance" and the entire franchise should be run by the Department for Transport.
"New timetables are a red herring here. Shocking service is what we were dealing with long before the new timetables came on the horizon," he said.
"Principally, Northern are out of their depth and it looks to me like they've given up on some of the more northerly routes in the Northern franchise."
A group of passengers from Darwen in Lancashire devised a plan to put on a special bus service to take people into Manchester.
Builder Sam McIntyre said he hoped to get the bus running "because people have to pay mortgages and rent".