Damages awarded after toddler drank drain cleaner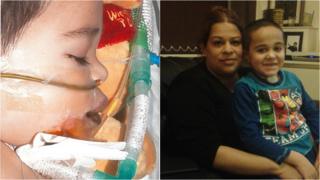 A family have been awarded damages after a two-year-old boy drank "deadly" drain cleaner in a supermarket.
Ayman Faisal opened the bottle while his mother turned to pick something up at SAFA Superstore in Moss Side, Manchester, in January 2013.
He suffered severe burns and is now unable to breathe without a tracheostomy, cannot speak and needs a feeding tube in his stomach.
The manufacturer admitted the child-resistant cap was faulty.
Ayman was in his buggy when he reached out and grabbed the product. A judge said the bottle should have been stored on a higher shelf.
The now seven-year-old suffered severe burns to his mouth, airway, oesophagus and stomach.
His mother Saira Faisal, 38, from Rusholme, also suffered burns as she tried to help him.
Describing what happened, she said: "It was only for a few seconds, but when I turned back I saw his lips had gone purple and blue and there was blood coming out of his mouth.
"I remember screaming at the staff to phone an ambulance while I tried to get as much as I could out with my hands. I was terrified."
Active Brands Concept Ltd will pay two thirds of the damages and the shop will pay the rest after it was ruled partly responsible.
The shop also did not have the correct licence to sell the product, which contained caustic soda.
The final settlement will not be reached until the long-term effects of Ayman's condition are known.
The shop and manufacturer have agreed to fund a trip to Cincinnati Children's Hospital in the USA to see if further treatment is available.
Alicia Rendell, from solicitors firm Slater and Gordon, said it had been a "long road" for the family.
"These types of products are deadly and those who manufacture and sell them need to take seriously their duty of care," she said.