Three arrests over Paul Massey and John Kinsella murders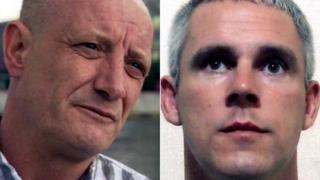 Three people have been arrested over the murders of notorious criminal figures Paul Massey and John Kinsella.
Massey, 55, was shot dead in 2015 and Kinsella, 53, from Rainhill, was fatally shot earlier this month.
A man, 37, was arrested at Manchester Airport on suspicion of both murders.
A man, 48, is being held on suspicion of conspiracy to murder Massey and a woman, 39, was arrested on suspicion of assisting an offender over the Kinsella murder, Greater Manchester Police said.
All three remain in custody for questioning.
Salford-born Massey, a security boss and businessman, was a convicted criminal once branded "Mr Big".
Kinsella was an underworld enforcer, said to have saved former Liverpool footballer Steven Gerrard from a gangster.
Police carried out dawn raids on Wednesday at addresses in the Heywood, Rochdale and Salford areas of Greater Manchester as well as in Cheshire as part of a joint operation between Greater Manchester Police (GMP) and Merseyside Police.
The families of the victims have been informed of the arrests, which are the first made in connection with each murder.
Det Ch Insp Carl Jones, of GMP, said although each murder has a separate investigation, "we will continue to liaise with colleagues from Merseyside Police".
Massey was killed by a masked gunman in "military-style" clothes outside his Salford home on 26 July 2015, police said.
Several witnesses saw the gunman approach the father-of-five at about 19:30 BST as he got out of his silver BMW at his home in Manchester Road.
Massey, jailed in 1999 for 14 years over a stabbing, unsuccessfully stood to be Salford mayor in 2012.
Kinsella was shot while walking his dog with his partner on a footpath near the St Helens Linkway near the M62 in Merseyside on 5 May.
His killer was on a mountain bike and fired the gun at his partner as she ran away from the scene, police said.
During a 2008 trial, Gerrard's father said in a letter that Kinsella stopped a gangster from threatening his son.
Paul Gerrard described Kinsella as a "fixer" who had intervened when the gangster, known as The Psycho, had threatened to shoot the former footballer in the legs in 2001.