Wigan Royal Court theatre to be restored to 'former glory'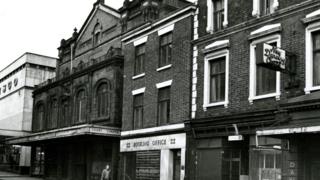 A Victorian theatre, which once hosted a performance by a young Charlie Chaplin, is to be restored "to its former glory" by an arts organisation.
Wigan's Royal Court Theatre closed in 1974 and was subsequently used as a bingo hall, nightclub and bar.
The Grade II listed building has been purchased by The Old Courts, who intend to convert into a creative hub.
A spokesman said the not-for-profit organisation was excited to have the building, but had "a big job" to do.
The 3,000-seat theatre, which opened in 1886, hosted many music hall performers in its early years, including a teenage Chaplin in 1903.
The spokesman said the building had been bought "with the aim to restore it to its former glory".
"The theatre, which is still largely intact, will form part of our organisation's aim to further develop heritage space to support the development of culture and the arts in Wigan," he said.
"[We] passionately believe that breathing new life into this historic space will be of huge benefit to our town.
"We've got a big job on our hands... however, it's a job we're happy to undertake."
The refurbishment is expected to be completed by 2019.