Train company Northern's service unacceptably poor, says mayor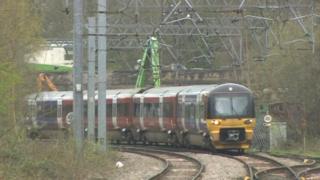 Greater Manchester Mayor Andy Burnham has called for an investigation into train company Northern's "unacceptably poor" service.
Mr Burnham has written to Transport for the North questioning whether it is breaching its operation because of frequent delays, "dangerous" overcrowding and cancellations.
He claims cancellations have doubled recently with 1,000 services suspended.
Northern blames staff shortages and delays to line electrification work.
Mr Burnham has called for clarification as to whether the firm's poor recent record puts it in breach of its franchise terms.
He told the BBC: "They are almost providing trains when they want rather than when the franchise says they should provide them.
"The service standard has fallen through the floor in recent weeks - it feels like the service is in freefall.
"People have been left on crowded platforms when they cannot even get on the train.
"It feels like the service is in freefall."
'Doors keep jamming'
His office quoted complaints from rail users, with one telling the mayor: "This morning's train into Manchester is as ridiculous as ever.
"Doors keep jamming and if someone doesn't pass out due to heat and overcrowding it will be a miracle!"
A second complainant added: "On a daily basis we have to put up with the incompetence and frankly dangerous overcrowding."
Liam Sumpter, Regional Director for Northern, said: "Unfortunately the big improvements to services that are much needed have had to be deferred due to the delays Network Rail have encountered in the delivery of the Bolton electrification project.
"If the electrification had been completed on time we would have been able to release diesel trains from the Bolton line to serve other parts of the North West and enable more services to run."