Ipso probes Manchester Arena attack press 'hounding'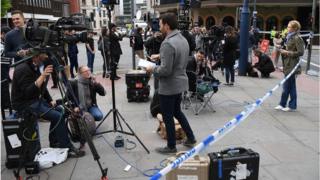 Accounts of "troubling" conduct by journalists after the Manchester Arena bombing amount to "grave breaches" of the editors' code if proven, a regulator has said.
Some families spoke of being "hounded" by the press following the attack, in which 22 people were killed.
Their accounts were reported in the Kerslake Arena Review, which described them as "utterly unacceptable".
The Independent Press Standards Organisation is probing the complaints.
The regulator, known as Ipso, said it had so far been unable to fully investigate the "troubling" accounts after the terrorist attack at an Ariana Grande concert on 22 May 2017.
It did not name the publications involved but said it has written to the review's author Lord Kerslake asking for information to identify those allegedly responsible.
It also urged anyone with information to come forward, promising a "thorough investigation" of any complaints.
The media regulator is considering Lord Kerslake's recommendation of a revamp of its editors' code in the light of the experiences identified by families.
It also announced a series of immediate actions including:
The development of a major incident plan to be automatically triggered after any mass casualty event
New guidelines on reporting major incidents and measures to encourage coverage of the issue in journalism training
Closer liaison with emergency and medical services
Ipso chairman Sir Alan Moses said it takes "press harassment and breaches of privacy very seriously", and said he was "extremely concerned" to read the accounts of families.
He said it was "keen to investigate these cases" and added the "action plan demonstrates further steps to protect families in this kind of situation in future".