Ex-Manchester United star Gary Neville drops Turn Moss plans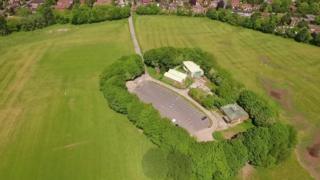 Former Manchester United captain Gary Neville says he will take plans for a football training centre elsewhere after conceding defeat to campaigners.
Non-league Salford City, co-owned by Mr Neville, wanted to develop facilities on an area of green belt in Stretford.
Opponents of the Turn Moss plans said they offered little to local residents.
Mr Neville criticised the "selfishness" of campaigners, writing on Twitter that he would instead develop an alternative site with Trafford Council.
In a series of exchanges with his opponents, he tweeted: "We will go somewhere else and I will send you pictures of what could have been achieved."
Mr Neville told the BBC he was "insulted" by the suggestion the club wanted to take anything out of the community and believed much of the opposition was politically motivated.
"Sports playing fields all across the country are being decimated, closed down, ruined, run down because they haven't got the long-term income to sustain them to the correct standard," he said,
"Sports investment into local community facilities is going to have to change and we were never able to get our message across unfortunately."
The plan for Turn Moss, part of Trafford Council's £170m Stretford Masterplan, would have seen a floodlit all-weather pitch created in a fenced area, alongside two grass pitches, a cafe and changing facilities.
Pitches would have been available for some community use eg schools or cup finals when not being used by Salford City.
'Not my loss'
Neville responded on Twitter after being accused of having "gone quiet" on his plans after the Conservative Party lost control of Trafford Council following local elections earlier this month.
He tweeted: "It isn't my loss. We will have what we want. I'm going to two locations elsewhere in Trafford tomorrow who are opening their arms to us for the investment and usage. It doesn't affect us one bit. Please get that. However, those kids of Stretford, I'm sorry."
More than 300 people attended a public meeting held at Manchester United's Old Trafford stadium in February to discuss the planning application.
Salford City's investment at Turn Moss had been welcomed by Trafford Council, which is also a partner of University Academy '92, a higher education institution backed by members of Manchester United's so-called "Class of '92", which includes Neville, his brother Phil Neville, Ryan Giggs, Nicky Butt, and Paul Scholes.
In January, UA92 revised plans for a 20-storey student village following a consultation.
A spokesman for Trafford Council said: "As Trafford Council went into 'no overall control' at the recent local elections, the planning application for Turn Moss has been deferred. We won't be issuing any further details about this planning application until a decision on its future is made by the council.
"In the meantime, we are continuing to progress other elements of the Stretford Masterplan which we are confident will revitalise the town."
Friends of Turn Moss co-chairman Nigel Woodcock said: "We wish Gary Neville luck and hopes he finds a suitable site."
Mr Woodcock said Friends of Turn Moss was seeking charitable status to apply for funding to improve existing facilities for sport and leisure use.