Manchester City Council pays back £23,000 bus lane fines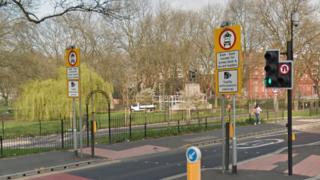 More than £23,000 has been repaid to motorists caught driving in bus lanes after thousands of tickets were sent out too late.
Penalty charge notices (PCNs) must arrive in the post within 28 days of a vehicle being recorded in a bus lane.
But Manchester Council announced in March that it missed the deadline in 23,500 cases.
The deadline to register an appeal ended on Wednesday and the council said 743 people had so far been successful.
Manchester City Council said the 23,500 fines issued between 2 October and 16 December were delayed due to an "administrative error".
About 400 appeals have so far been rejected.
The council said the reason it did not just reimburse everyone straight away was that the tickets were still legally valid and were only issued to people who had been caught driving in bus lanes.
Kim Dorrington, strategic director of highways, transport and engineering for Manchester City Council, said: "Although these penalty charge notices were all legitimately issued to drivers who had committed bus lane contraventions, it is of course extremely unsatisfactory than an administrative error meant a significant number were mailed out too late.
"We would stress that most of the notices issued during this period were in time and that anyone who has paid has admitted liability.
"But we want to be fair and proportionate. If people believe they received a notice which was posted too late they can write us and we will review their fines, on a case by case basis."
Bus lane fines start at £30 for those paid within 14 days, increasing to £60 after 14 days and £90 if not paid within 28 days.
In February it was reported almost 1,000 motorists per day had been fined in just five months for driving along bus lanes in the city's Oxford Road.