Arsonists target Warburton Bridge toll bridge booth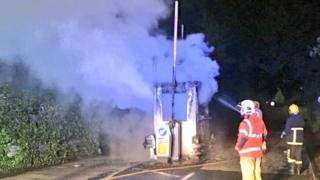 A payment booth at a controversial toll bridge described as "archaic" by campaigners has been destroyed in a suspected arson attack.
The fire broke out on the Warburton Toll Bridge at about 01:30 BST.
The bridge, which costs 12p to cross and can only be paid by hand and in cash, has caused many complaints from drivers and residents over congestion.
Locals have resorted to prepaying up to £25 a day to avoid a build-up of traffic and "horrendous" jams.
They did so in order to allow toll booth attendants to wave drivers through without having to stop and pay.
The Warburton Toll Bridge Action Group (WTBAG) was created to challenge owners Peel Holdings over traffic disruption.
A spokesman said because of the fire "at least in the short term, the local road networks around Warburton, Partington and Hollins Green will not have the severe congestion at peak traffic time that have been causing terrible delays to journeys".
Warburton Toll Bridge
Only route across the River Mersey and Manchester Ship Canal between the M6 and M60
Links the villages of Rixton in Warrington, Cheshire to the north, with Warburton in Trafford, Greater Manchester to the south
Created after the passing of the Rixton and Warburton Toll Bridge Act 1863, which gave the Manchester Ship Canal Company the right to build the bridge and then charge those crossing it
Originally cost one person on horseback or in a cart 1p (the equivalent of 18p today) to cross
Peel Ports said tolls will be back in place "as soon as possible".
"CCTV footage is being reviewed and a police investigation has commenced," said a spokesman.
"The toll bridge will remain open today and normal operations will resume as soon as possible."
Lymm North and Thelwall councillor Bob Barr tweeted: "I hope that, on investigation, the loss of the Warburton Toll booth will come down to have been a maintenance issue or negligence rather than arson or criminal damage.
"Though no-one, other than Peel Holdings, will mourn the loss of the structure."
In January, Peel Ports met WTBAG representatives, as well as Trafford and Warrington councils, to discuss the bridge.
It was confirmed that an automatic "free-flow" toll system would be introduced.