Droylsden 'stink': Clearance of waste starts at unofficial waste dump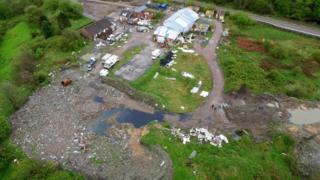 Work has started to clear an unofficial waste dump in Greater Manchester that was causing an "horrendous" stink.
Residents living near Gartside Farm in Droylsden had complained that thousands of tonnes of food waste had been left.
The Environment Agency (EA) said the landowner and occupier of the site had informed them that they are starting work to remove the waste.
Local MP Angela Rayner welcomed the news, saying the waste had "caused so many problems for residents".
Landowner Lay Hy Chhung has been approached for comment.
'A long battle'
The EA first began investigating complaints at the site earlier this year after receiving thousands of complaints.
SpokesmanLee Rawlinson said it had been "a long battle".
"We took direct and positive action against the landowner and the operator to compel them to go in there and remedy what it is that they've caused," he said.
"Yesterday they informed us that they were taking some plant and machinery on site to start the work to remove that waste."
He estimates it will cost up to £1m to remove the waste.
The EA said a criminal investigation is ongoing.
Labour MP for Ashton-under-Lyne Ms Rayner said she will "monitor the situation to ensure work continues".
Local resident Nicola Hopwood said the "horrendous" smell was like rotten eggs.
"The smelly waste is being removed which is all we've asked for all along," she said.
"We've come together as a community and sorted it."