Oldham Council leader Jean Stretton ousted by Labour rival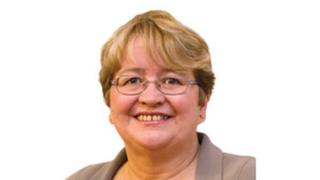 Sean Fielding will replace Jean Stretton as Oldham Council leader after the town's Labour group voted her out.
Ms Stretton - the authority's first female leader - was ousted at a meeting on Tuesday. Labour gained two seats in last week's council elections.
Mr Fielding tweeted that he was "honoured" for the opportunity to serve at a higher level and thanked his predecessor for "her public service".
Ms Stretton, who led the council from January 2016, has not commented.
She served as deputy leader from 2014 until taking the job two years ago.
Mr Fielding said: "I know that being the council leader is not an easy job, something I am sure I'll come to appreciate even more during my time in this role."