Wigan magistrate and daughter neglected dogs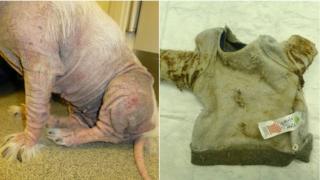 A magistrate and her daughter have avoided jail terms for causing unnecessary suffering to two dogs.
Gail Bradshaw, 64, and daughter Nicola, 29, were found guilty of failing to provide proper and necessary care and attention for the pets.
The West Highland white terriers, Poppy and Holly, had severe skin conditions which led to infection and fur loss.
Both defendants, of Leigh, Greater Manchester, received 12-month community orders at Preston Magistrates' Court.
Bradshaw had earlier resigned her position at Wigan and Leigh Magistrates' Court following the guilty verdicts last month.
The court was told the Bradshaws, of Minehead Avenue, were inconsistent in following the vet's treatment plans for Poppy given in 2014 and 2015.
After a new treatment plan was put in place in March 2015, they failed to return to the vet.
The RSPCA said Holly started to get similar symptoms in early 2017 but was not taken to the vet despite both animals being covered by a "Rolls-Royce" insurance plan.
Last week RSPCA inspector Vicki McDonald said the severity of the skin conditions and fur loss was the worst she had seen in her 15-year career.
She said they "were in an absolutely shocking state" and Poppy "was wearing a filthy baby jumper" that had "stuck to Poppy's weeping skin".
Philip Clemo, defending, said the case "amounts to a series of serious errors of judgment" and he hoped "their remorse and upset" is clear.
"This is not an animal cruelty case where someone has been wilfully cruel or mean to an animal," he said.
"They deeply cared for these animals but were, I'm afraid to say, incompetent in caring for them."
He added the impact of the proceedings had had a "major effect" on the pair, with both being afraid to go out in public.
Chairman of the bench Ruth James said the offences were serious enough to warrant custodial sentences.
But she added: "Custody was not appropriate in the case taking into account all the circumstances and the mitigating factors."
The community orders mean the pair, who have no previous convictions, will each be required to carry out 200 hours of unpaid work.
They were also ordered to pay prosecution costs of £500 each.