Salford fatal fire: 'Getaway driver found out facts on Facebook'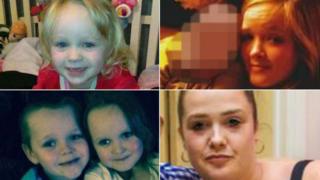 A woman who drove a getaway car from an alleged arson attack which killed four children told police she found out what happened on Facebook, a jury heard.
The siblings, aged between three and 15, died in the blaze in Walkden, Salford on 11 December.
Zak Bolland, 23, Courtney Brierley, 20, and David Worrall, 26, all deny four counts of murder.
Manchester Crown Court heard Abigail Toone went to the police the day after the fire to "tell the truth".
'Do it quick'
Demi Pearson, 15, her brother Brandon, eight, and sister Lacie, seven, died in the blaze when their house was torched with petrol bombs, the court has heard.
Their mother, Michelle Pearson, 35, was rescued along with her youngest daughter, Lia, aged three, who died in hospital two days later.
A police interview with Ms Toone, recorded the day after the fire, was shown to the jury in which the prosecution witness said she saw what had happened at the house she drove the trio to on Facebook and thought: 'What have I got myself into?"
The court heard that following day she said she went to the police, saying: "For the sake of the children that died I just want to do the right thing and tell the truth."
The jury has previously been told Mr Bolland, who has admitted reckless arson, launched the attack after a feud with the victims' 16-year-old brother Kyle Pearson.
The jury has heard Ms Toone had driven to Mr Bolland's house in the early hours of the morning to see if a friend was there and while there heard defendant Mr Worrall say "I want to slice his face open".
They got her to drive them to a garage beforehand, she said, and Mr Bolland returned to the car with a green can smelling of oil or petrol and recalled seeing "between two and four" glass bottles and tissue.
Ms Toone said the two men left the car and Ms Brierley told them to "do it quick".
She said they put their hoods up, grabbed the bottles and got out of the car.
'Something really, bad'
Minutes later the men got back in the car and said: "Go, go. Drive to Zak's".
She said "it was happening so fast and I knew they'd done something really, really bad".
Ms Toone was then cross-examined by Peter Wright QC, Mr Bolland's barrister.
He said what she told the court was rehearsed to distance herself from what happened that night.
She responded: "I've never been through anything like that."
He suggested she did not go to the police immediately to protect herself, to which she replied she had always intended to go but needed her family's support and to take advice.
Mr Wright then said she wanted to "minimise your involvement".
Ms Toone replied: "I went there to tell them exactly what happened that night."
Mr Bolland, Ms Brierley and Mr Worrall also deny three counts of attempted murder.
The trial continues.