Armed police alerted over Chester WW2 re-enactors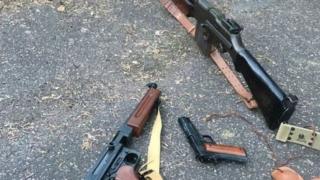 Armed police were called to reports of two men carrying machine guns - only to discover they were World War Two battle re-enactors.
Officers were deployed in Chester on Monday amid concerns about the men, who were dressed in combat clothing.
However, they turned out to be a pair of war history enthusiasts, Cheshire Police said.
Their weapons, which included several American guns commonly used in the conflict, were deactivated.
Ruth Jones, a fund-raiser at the Royal British Legion, said the men had been invited to a "living history" event later this month.
They were initially thought to have been masquerading as Home Guard volunteers.
The Home Guard was a reserve force of volunteers made up of people who were too old or otherwise ineligible to join the armed forces.
They were famously portrayed in the BBC sitcom Dad's Army, which ran from 1968 to 1977.