Andy Burnham: Safe housing 'should be a human right'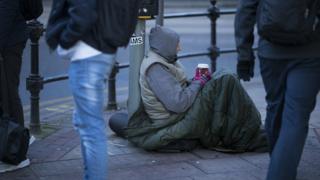 Greater Manchester Mayor Andy Burnham has called for the right to healthcare to be extended to include safe housing.
Mr Burnham has written to the leaders of the Conservatives, Labour and Liberal Democrats asking for them to work with him on homelessness.
He wants greater regulation of the private rental sector and more freedom for local areas to invest in housing.
The government said it is providing £1.2bn "to ensure homeless people get the support they need".
Mr Burnham has committed to ending rough sleeping in Greater Manchester by 2020.
It comes as Mr Burnham marks his first anniversary of being elected the region's mayor.
Analysis
By Kevin Fitzpatrick, BBC North West political editor
On the campaign trail to become Mayor of Greater Manchester, Andy Burnham made one key manifesto promise that stood above all others - that of ending the need for rough sleeping by 2020.
A year into his tenure, he says he has no regrets about setting such a high bar. But despite the creation of a Homelessness Fund, some extra cash from government and various initiatives aimed at supporting those in need, it's thought the number of rough sleepers locally is actually increasing.
Mr Burnham now says for his ambition to be achieved there needs to be urgent action at a national level to tackle the underlying causes. He wants the government and politicians of all colours to acknowledge the urgency of the situation, and make moves to deal with the housing shortage and fix a rental market he claims is broken.
Anecdotally, the challenge appears to be getting more difficult every day. Mr Burnham insists meeting his 2020 deadline is still possible, but only if his call to arms is answered.
In his letter to party leaders Theresa May, Jeremy Corbyn and Vince Cable, the mayor said the "limited powers at local level" have convinced him that "more radical action" is required.
He has asked for new legislation to make safe housing a basic human right like health and education and cites the European Convention on Human Rights.
Rough sleeping causes "immense damage" to people's physical and mental health, he said.
The mayor also said eviction from private rented accommodation is the biggest cause of homelessness in Greater Manchester.
"We need to reset the whole housing debate and get back to building homes that people can really afford," he told BBC Breakfast.
"Working as we're going at the moment - where we're trying to get affordable homes through the planning process - just isn't working and we need a radical new approach."
He has also invited Mrs May, Mr Corbyn and Mr Cable to visit Greater Manchester to examine some of his approaches to homelessness.
A spokesman for the Ministry of Housing, Communities and Local Government said it is investing £2bn in social rent housing.
"Our Homelessness Reduction Act, introduced just last month, will also mean fewer households will have to face the stress and upheaval of a homelessness crisis. In order to implement it, councils are receiving an extra £72.7m."