Manchester shooting: Clayton man 'seriously injured'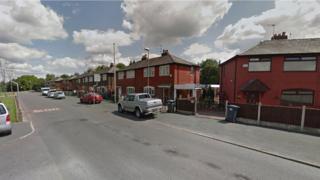 A man has been seriously injured in a shooting on a Manchester street.
Police said a man aged in his "late teens" was with friends in Vale Street, Clayton, when he was shot in his leg at about 14:45 BST.
He has been taken to hospital for treatment, Greater Manchester Police (GMP) said.
Det Insp Claire Moss of GMP urged anyone with information that could identify the perpetrator of the "violent attack" to contact the force.
She said: "People will understandably be concerned that someone has been shot in broad daylight on their streets, but I want to assure them we are doing all we can to get to the bottom of what happened."
She said there is a cordon in place and increased patrols in the area.
Appealing for witnesses, Det Insp Moss said: "On such a warm bank holiday people will have been in the area and someone out there will have the detail we need to hold the offender to account."