South Asian gallery plan for Manchester Museum expansion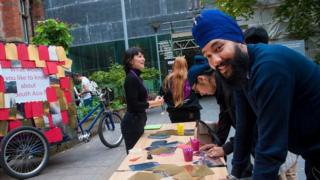 A museum has been given a £4.2m grant for a project that includes the first "large-scale" South Asian museum gallery in northern England.
It will go towards Manchester Museum's £12.7m Courtyard project, which also includes a new temporary exhibitions gallery and new visitor facilities.
The Heritage Lottery Fund grant is in addition to £5m from the government for the South Asia Gallery.
A museum spokeswoman said it would make the venue "more relevant".
Work is due to start in August, with the Courtyard project expected to open to visitors in 2020.
Museum director Esme Ward said: "The project will develop and transform the museum to bring more wonder and inspiration from around the world to the people of Greater Manchester and beyond."
With contributions from the British Museum, the South Asia Gallery will also be the UK's first permanent gallery on the region's diaspora.